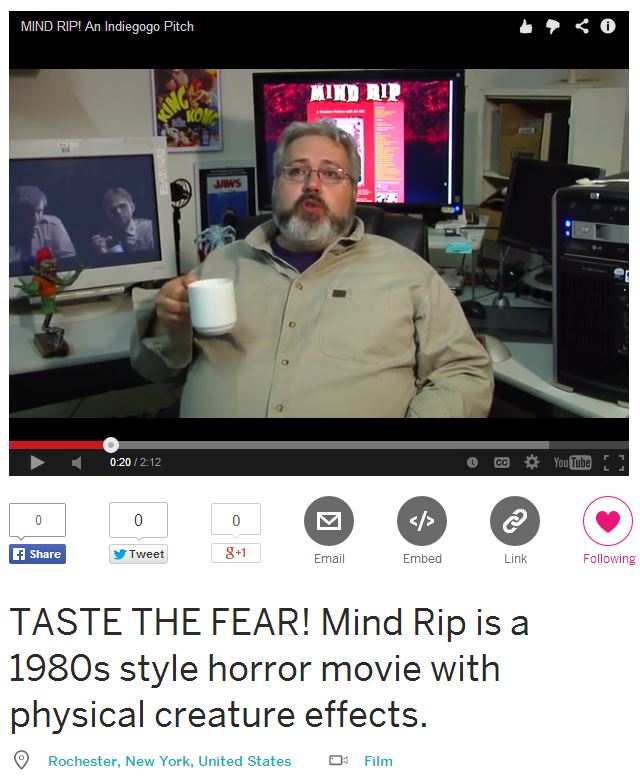 Today we launch our Indiegogo campaign! Travel over to our fundraising page to watch the video and see how you can help.
We're producing a grindhouse-style horror film that has the feel of the late 1970s or early 1980s. Mind Rip contains over-the-top thrills and tongue-in-cheek violence, making it a modern day "classic monster" movie. We're marrying the creature effects of 1970s films with today's digital compositing and editing techniques. Films that inspired Mind Rip include Phantasm, The Evil Dead, George Romero's Dawn of the Dead, and John Carpenter's The Thing. Mind Rip is made for fans of these movies, who really appreciate their tone and style of moviemaking.
What We've Done… and What's the Next Step
We've come a long way with Mind Rip. After shooting sample scenes for promotional purposes, we put together a great drive-in style trailer that got us some attention. We presented the trailer and promotional materials to distributors, who showed real interest in seeing a final product. We've even lined up genre actors to appear in the film. Up till now, we (producers John Vincent, Mike Boas and a few others) have funded this ourselves.
What's next? We're at the point in our development where we have everything put together to go to investors to get substantial budget that fits this genre of film. One way to do this is meet with investors at film markets and festivals. We're asking for $3,500 to help with this next stage. The initial funds will be used to form our LLC and pay legal fees for our business documents. Following that, money will go towards travel expenses and promotional materials.
Take a look at our Indiegogo rewards and see what you can receive for helping us meet our goal!