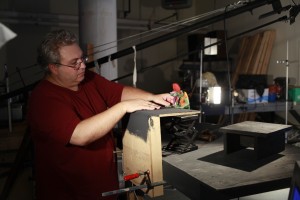 John David Vincent
Writer – Director – Effects – Producer
John began his film career at the age of eight years old. Starting off with an 8mm camera handed down to him from his grandfather, John animated small clay figures moving across his bedroom floor. John continued to make small films and study the art of filmmaking through his high school years. After studying animation at The Rochester Institute of Technology, he graduated from Monroe Community College with an associate's degree in Liberal Arts. John attended Brooklyn College for one year in the Motion Picture Production School and began to work professionally in the motion picture industry afterwards. He began as a production assistant and soon elevated to higher positions, working in virtually every department in the business. John's first screen credit appears on the low budget horror film The Refrigerator as part of the special effects crew. Since then, he has worked on roughly a dozen feature films and countless commercials and industrial films.
In 1989, John directed and animated a clay animated television spot at Animatus Studio in Rochester, New York, for the well known music store called The House of Guitars. It has been running every year at Christmas time, making it one of the longest running television ads in United States history.
In 1991, John moved from the east coast to Los Angeles and began working for David Allen Productions. David Allen was the creator of miniature and stop-motion animation effects. There John worked on low budget horror and science fiction movies like Freaked (a cult favorite), and Full Moon productions such as Robot Wars, Doctor Mordrid and Prehysteria.
Following his stint in California, John moved back to his home town of Rochester and founded Philrose Productions. He has since headed up art departments on productions in the upstate New York area. John was the effects supervisor After Image, starring John Mellencamp and Louise Fletcher, and Tommy Hilfiger Entertainment's Proud, starring Ossie Davis. John also served as Art Director on Proud and Producer/Director of Photography on the feature film 3.14.
Most recently John directed and was cinematographer on the feature film Hero of the Underworld with Quinton Aaron, Catherine Mary Stewart and Nicole Fox.John also served as one of the producers.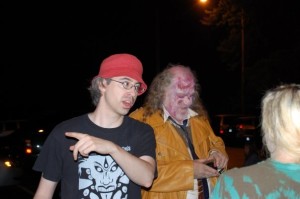 Mike Boas
Producer – Editor
Mike is a self-proclaimed movie geek with a particular love for horror films. Mike's animated shorts "H.P. Lovecraft's The Other Gods" and "Jason: The Rebirth" have won acclaim at screenings around the world. His animation can also be seen in "American Grindhouse" and "That Guy Dick Miller" (both of which premiered at SXSW), and "Night of the Living Dead: Reanimated" (which played at San Diego Comic-Con).
In the world of live action production, Mike has acted as assistant director, producer, and editor on numerous short films in conjunction with Rochester Movie Makers. Mike also holds a board position with the educational cooperative.  His feature work includes acting as assistant director and editor for 3.14 and Hero of the Underworld.
His personal website is MadDogMovies.com.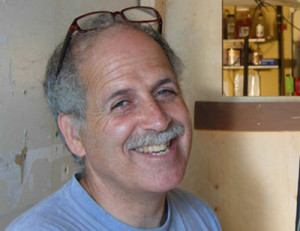 Michael Kalnitz
Art Director – Effects
With a background in fine art and construction, Mike Kalnitz is the backbone of the Philrose art department. Recent credits include special effects work and design on the features After Image and Proud. He has worked on commercial jobs, television spots, and short films with Philrose Productions for the last fifteen years.